4 Wheel Fodder Harvester
4 Wheel Fodder Harvester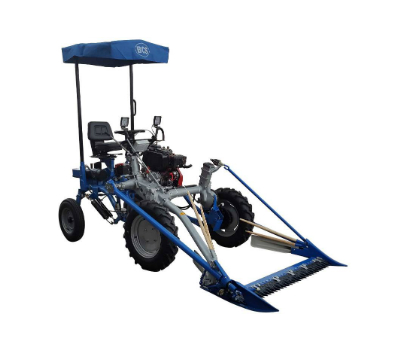 With the tremendous success of Three wheel Fodder Harvester and growing demand of farmers for a self propelled luxury model, a new Four wheel Fodder Harvester was born in 2015. This machine was equipped with an efficient hydraulic unit for lifting the cutter bar, Steering with dashboard for ease in accessibility of functions as well as manoeuvring of machine in the field, the raised platform of sulky for comfortable seating posture and clear visibility along with the canopy to provide shade and shelter from sun and weather conditions. The operation of the machine in the field is same because the prime mover and the Fodder Harvester unit is almost similar to the Three wheel machine.
More Information
Technical features
Function: Harvesting and Binding of grain crops in a single operation.

Crops: Wheat, Paddy, Oats, Barley & Other grain crops having height of 85cm to 110cm

Starting System: Self Start

Engine: 10 HP, Single Cylinder, Air Cooled, Diesel

Fuel Consumption: 1 Liter / Hour

Work Capacity: 0.75 Acre/hour

Weight: 535 Kgs.

Gear: 4 Forward & 1 Reverse

Cutting Width 1.53 meter (5 feet approx.)

Special Features
Harvesting and Windrowing of Fodder crops.

Harvesting of 0.75 Acre of field in 1 Hour, with consumption of 1 Liter Diesel only.

Mechanical Steering system for easy handling.

Hydraulic type cutterbar lifting system

Harvesting and Binding of 0.75 Acre of field in 1 Hour, with consumption of 1 Liter Diesel only.

Reaper Binder attachment for Harvesting wheat, Paddy and Other grain Crops can also be attached to the same machine.
Reaper Attachment for suitable cutting of Paddy and other crops having height more than 5 feet can be used with same machine.
Other models that may interest you
Other models that may interest you