Fodder Harvester
Fodder Harvester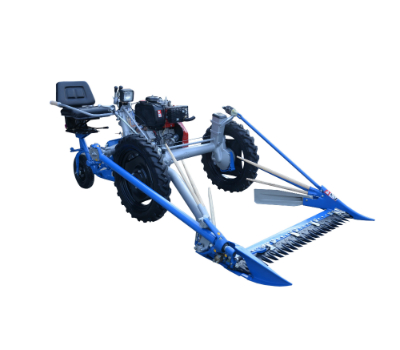 Due to very good response of Reaper-Binder, its production has been differentiated with this yet another amazing machine called the Fodder-Harvester .
This machine is highly accepted by the farmer owing to its extremely low Operating as well as Maintenance cost. Fodder Harvester is mainly used for Fodder crops like Barseem, Lucern, Mentha and other Green Fodder.
More Information
Technical features
Function: Harvesting and Windrowing of fodder crops.

Crops: Barseem, Lucern, Mentha and Other Fodder Crops.

Field Cap: 1 Acre / Hour

Engine: 10 hp Diesel. Air Reverse

Width of Cut: 4 feet

Height of Cut: 2 to 5 cms.

Weight: 300 Kgs.

Gear: 4 Forward & 1 Reverse

Size: Length 310 cm Width 150 cm

Special Features
Harvesting and Windrowing of Fodder crops.

Harvesting of 1 Acre of field in 1 Hour, with consumption of 1 Liter Diesel only.

This machine can be converted into Reaper Binder by simply changing the Cutter Bar attachment.

A sprayer attachment with capacity of 250 ltr. can be mounted on the same machine.

Reaper Attachment for suitable cutting of Paddy and other crops having height more than 5 feet can be used with same machine.

Other models that may interest you
Other models that may interest you